Davey are the benchmark for quality and reliability with household pumps and these models have market leading features. Davey offers you a vast choice of pressure systems operated by the unique Torrium Controller to deliver you flawless performance no matter whatthe demand. There is a Davey home pressure pump to suit virtually every home and budget.
Choosing the most appropriate model for your application depends on a number of factors :-
How much water will be required..?
Using the figures below work out how much water you need add up all the requirements that are likely to operate at any one time.
Eg: 1 Shower, dishwasher, washing machine, toilet all on at one time = 44 litres per minute Demand
Toilet = 9 litres per minute
Standard Shower Head = 10-15 Litres per minute, Water saving shower head = 7 Litres Per minute, Household Standard tap = 10 Litres per minute, Dishwasher = 15 Litres per minute ,Washing Machine = 10 - 15 Litres per minute, Garden Hose = 20 Litres per minute, Lawn Sprinkler = 10 -15 litres per minute
Typical Domestic water usage as a guide:
Small cottage requires 10 - 20 Litres per minute ,Small House require 20 - 30 Litres per minute ,Medium House requires 30 - 50 litre per minute ,Large House requires 50 - 90 litres per minute
This is always dependant on how many people live in the house.If you have for example 3 showers and only 2 people living in the house water flow demands will be less than if you have 4 people living in the same house using taps all at one time.
This is often considered in terms of the number of taps or outlets that are likely to be on at the same time
How much pressure will be needed..?
Pumping through long runs of piping or to elevated places such as multi storey buildings requires more pressure than flat sites or compact plumbing systems
A Jet pump is the way to go if you have to draw the water up out of a tank or well and or other water sources requiring suction lift up. Jet pumps are also self-priming.The more depth the pump has to draw the less the flow at the destination. Jet pumps are centrifugal pumps that have a jet and venturi fitted to improve the performance of the pump. Jet Pumps are capable of pumping from depths up to 7-9m. Jet pumps tend to be a bit nosier than a multistage pump but are a neccesity when lift is required.
Why choose a Multistage pump?
These pumps are the best choice when you have a positive head of pressure available to the pump.These pumps are also more than often not self priming.So if your water tank is above ground with a discharge pipe at the bottom of your tank and your pump is at the base of the tank then this is positive head pressure and great for a multistage. If your pump is close to a living area then this is the best option as they are very quiet.Multistage pumps utilise several impellors and diffuser assemblies (Stages) to increase the pressure from the pump & using less energy to do so.
The following Davey pump chart is a quick guide to selecting a davey household pressure pump to suit your flow and pressure requirements.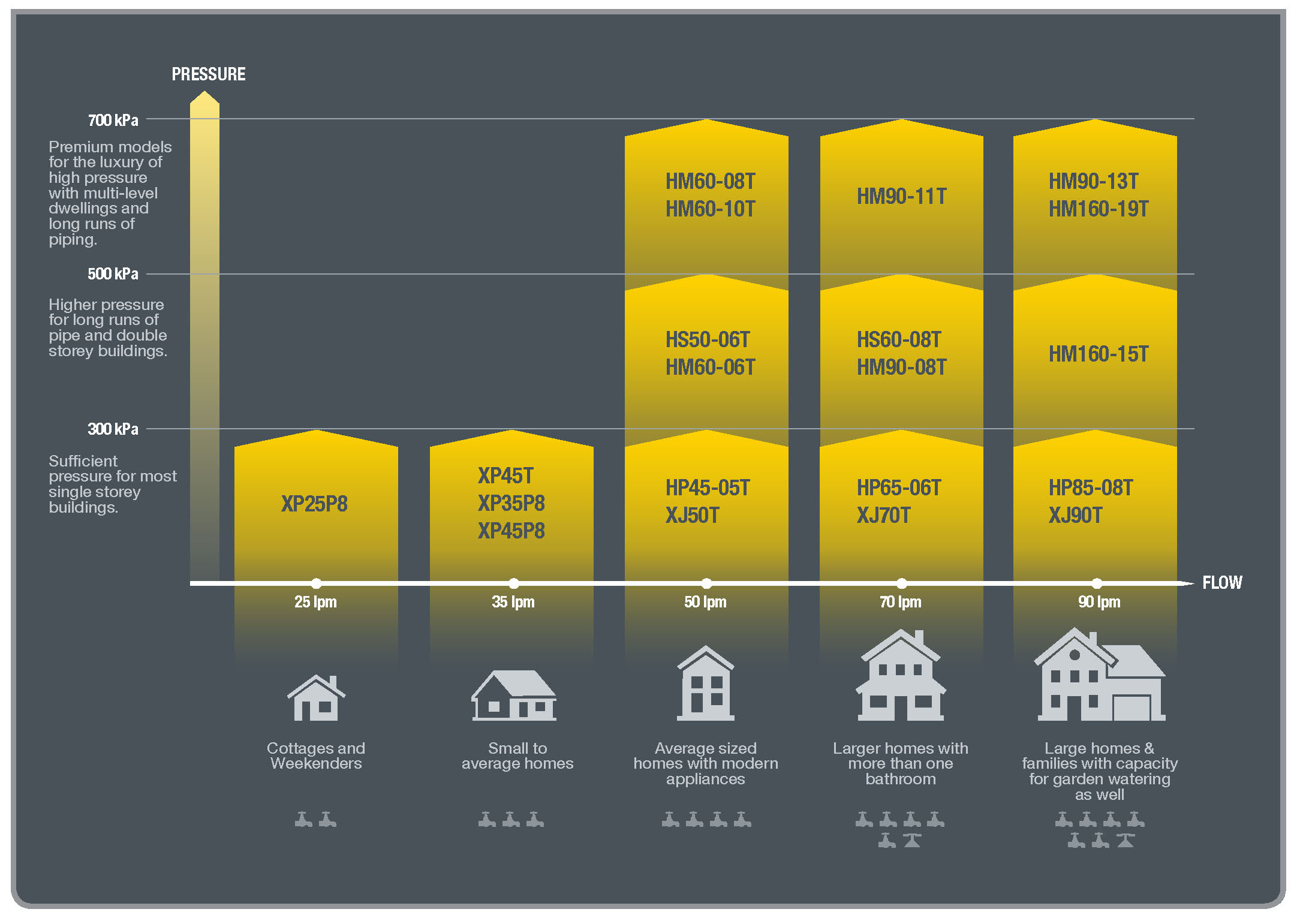 To view our complete range of Davey Household pumps, please visit our website here :- Davey Household Pumps